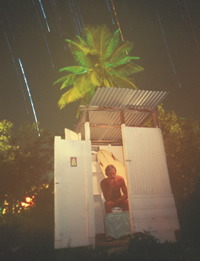 Self-portrait

I'm writing this in first person because the production of my film, Water Time, Surf Travel Diary of a MadMan was/is a one-person undertaking; it feels right.

I'm a writer with three books in print: A cult-hit autobiographical novel called Cosmic Banditos and two memoirs, In Search of Captain Zero; A Surfer's Road Trip Beyond the End of the Road and my latest, Can't You Get Along With Anyone? A Writer's Memoir and a Tale of a Lost Surfer's Paradise. The first two have been bought for the movies, by John Cusack (with New Crime Productions) and Sean Penn (with Radar Pictures) respectively. In both deals I was hired on as screenwriter.

I am also a journalist plus a photojournalist; I've done articles and spreads for magazines as diverse as Men's Journal (including a cover photo), Smithsonian (a 13 page spread), The Surfer's Journal, Popular Photography, and American Cowboy. In my last memoir (CYGAWA) appeared the long version of an investigative piece I did for Men's Journal in 1997; an expose of the truth behind the murder of American expat Max Dalton in outback Costa Rica.

I was a 'Hollywood writer' for over twenty years. I was one of the initial staff writers on Miami Vice; I was also on staff for Crime Story, Michael Mann's follow up TV series. I went on to write the screenplay for Beer, a Robert Chartoff (Rocky, The Right Stuff, Raging Bull, etc, etc) production,from my original idea, a comedy about a beer advertising campaign that gets out of hand.

I made a good living in Hollywood right into the mid 1990s, then, for personal, aesthetic reasons, I decided to get back to living life; I wrote some books. What I'm proudest of: In well over 300 Amazon.com reader reviews, my books average just below five stars (4.7); I've not come across another writer who is as well thought of by so many real readers.

My background and talents as both a storyteller and a photographer made it inevitable that I would someday write and shoot my own film.

I refer to Water Time as a 'filmed memoir.' Although technically a documentary, it is a unique story told in a unique way; it is difficult to 'genre-ize.'

In 2007, along with my pup Honey I went on the road in search of waves to ride, and, as acclaimed investigative journalist Jon Rappoport points out, '…to find out what happened to America.'

I believe I did find out. Please view my film, see if you agree.