Water Time, Part Two is well into post production...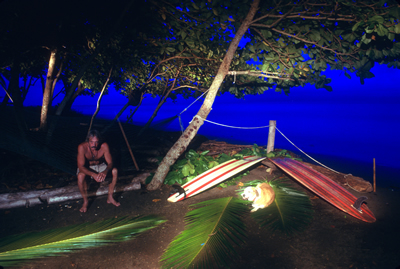 Somewhere in Central America, 1997. A similar road trip, different dog. This time a book resulted, In Search of Captain Zero.
Water Time, Part Two is well into post production. The story picks up chronologically where Part One ends, in the spring of 2011. It follows Honey's and my travels and interactions with folks down south up until 2014; the journey takes us deep down into the rabbit hole.
The making of the two Water Time films spans seven years of travel and surfing and interactions with folks met on the road, but mostly focuses on what I learned about How the World Works.
Part of the delay in finishing Part Two has to do with finances. I'm pretty drained, folks!
If you care to contribute financially, you can do so via PAYPAL, or by sending cash, check, or money order to:
Allan Weisbecker
P.O. Box 395
Montauk, NY 11954

Any donation of $15 or more will get you TWO Water Time dvds.
Why Two? Because I want you to give one to a friend. I want my film to be seen.
Put your mailing address in the PayPal 'Merchant Instructions' and in an email to me at allan@banditobooks.com. just to make sure I have it. If you use snail mail, send me an email and I will ship ASAP, trusting that you did send the money to my P.O. box. I have faith that if you've come to this site and/or have seen my film, you will not rip me off.
On the road or not, I will be doing the sending (and signing of the dvds, of course) myself. Keep lookout for weird postmarks...
Donors of $100 or more will also receive autographed copies of Can't You Get Along With Anyone; A Writer's Memoir and a Tale of a Lost Surfer's Paradise and 6 Water Time DVDs. Use the Instructions form in PayPal with your mailing address and personalization information for the autographs.
WHAT THE CRITIS SAY
"With In Search of Captain Zero and now Can't You Get Along With Anyone? I believe Allan Weisbecker is the greatest memoirist of our time."
--Mary Sands, Jack Magazine
"As his sanity, health and existence are simultaneously mangled, Weisbecker somehow manages to solve a murder, wrestle the dark side of paradise, and wind up on multiple third world hit lists… Can't You Get Along With Anyone? is a necessity for anyone who believes truth is indeed stranger than fiction… an entrancing, thoughtful and darkly humorous calamity."
--Surfer Magazine
"Can't You Get Along With Anyone? is a writer's book about writing. And when I say writer, I mean Writer. I've already compared Weisbecker's writing with Alexandr Solzhenitsyn's, and now I'm going to compare it to Mark Twain's. Alexandr Solzhenitsyn is a Writer. Mark Twain is a Writer. And Allan Weisbecker is a Writer."
--James Maclaren, Ink 19 Magazine