Essays by Allan Weisbecker:
NSA Surveillance: On Edward Snowden's Oath and Motives
Orwells Optimism: The Deep State, Self-Deception, 9/11, and the Legend of "FBI Maverick" John O'Neill
How the World Works: An Open Letter to Physicist Brian Greene, P.h.D.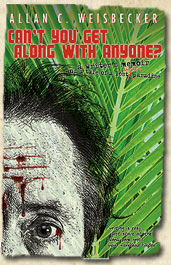 Can't You Get Along With Anyone?
When Weisbecker penned the last sentence of In Search of Captain Zero,
most readers assumed the full scope of the tale had been told.
But apparently, life had other plans.
Other titles by Allan Weisbecker on Amazon



Why are the astronauts (still) lying?
Think mankind went to the moon? Think again! Check out my interview on Revolution Radio:
PART ONE: https://www.youtube.com/watch?v=jewOxhe6whI
PART TWO: https://www.youtube.com/watch?v=W-UOaSp06nE
PART THREE: https://www.youtube.com/watch?v=1lD0M2XWXgw
Some of ACW's Youtube flicks:
'Liars on Parade':  https://www.youtube.com/watch?v=Az-wFTQTAw4
'Liars on Parade,' Episode Two:  https://www.youtube.com/watch?v=c6W2RuMOkiw
'Rand Paul Essence':  https://www.youtube.com/watch?v=Fy2KqcVR3Xs